Book the Top Industrial Cleaners in Milwaukee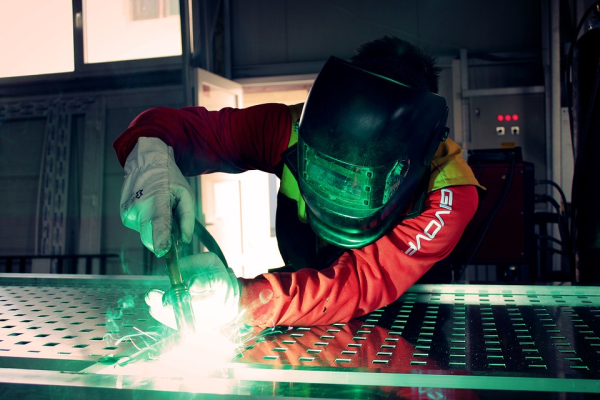 Overhead Cleaning & Industrial Vacuuming for Southeast Wisconsin Businesses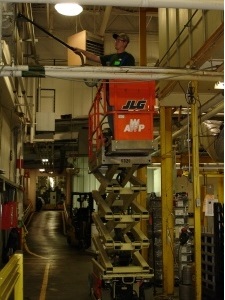 Air Quality Controllers performs professional overhead highlight cleaning and industrial vacuuming throughout Southeast Wisconsin. Large, open areas with heavy traffic accumulate dirt, dust and manufacturing byproducts which can lead to expensive safety violations or workplace injuries or illnesses. Buildup can also damage your equipment by slowing down delicate machine parts and increasing production costs.
Our Milwaukee area industrial cleaning professionals cover everything from the ceiling all the way down to the floor. We clean difficult-to-reach areas, including machine tops, lights, trusses, and beams to promote healthier work environments and increase production efficiency. Air Quality Controllers even works around your production schedule to minimize interruptions.
Request an Industrial Cleaning Quote
Industrial Cleaning Professionals Use Specialized Equipment to Get the Job Done Right
Industrial cleaning for overhead for structures is highly recommended due to the high level of dust accumulation these hidden areas attract. Unfortunately, these areas are often difficult to clean without using special equipment. We use scissor lifts and boom lifts to clean industrial areas of all sizes. No matter where dust and debris accumulates, we will find and safely remove it.
From combustible dust fires to employee health threats, overhead vacuuming improves the air quality and safety in your work environment. The Occupational Safety and Health Administration (OSHA) has very clear regulations and guidelines in regards to industrial hygiene. Dust from manufacturing, chemicals, and other airborne debris all pose a risk to workers through daily exposure. With an industrial cleaning from Air Quality Controllers, you avoid a potential fine from OSHA while keeping your workers happy and healthy with clean, quality air.
Cleaning Hard to Reach Spaces in Your Industrial Facility
Ceilings, structural support, walls, pipes, ductwork and other overhead structures should be cleaned regularly by professionals like the team of Air Quality Controllers. Our well-trained Milwaukee industrial cleaning experts will work with you every step of the way to ensure all your needs are met. We will effectively and efficiently clean your building's overhead and work around your production schedule to minimize the disruption to your facility. You won't have to shut down while waiting days or weeks for your cleaning to take place.
The frequency of overhead vacuuming will depend on your facility's needs and the surfaces involved. Different areas have different needs, and those needs change depending on industry activities. A company dealing with a lot of sawdust from wood manufacturing will have a much more frequent cleaning schedule than other manufacturers. Air Quality Controllers will help you determine how often your facility should be cleaned so you can stay on top of regular cleaning.
Improve Indoor Air Quality with Industrial Vacuuming in Wisconsin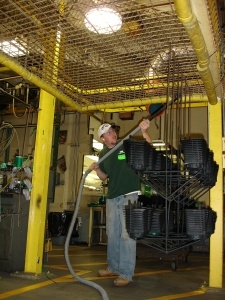 Our industrial cleaning contractors are highly trained in overhead vacuuming and industrial cleaning. From cleaning the interior and exterior surfaces to cleaning equipment and storage areas, Air Quality Controllers will apply the appropriate technique and system to suit the requirements of your overhead needs. Our industrial cleaning contractors will make certain your space including your floors, walls and ceilings are free from debris. Industrial vacuuming equipment allows us to remove airborne debris from those impossible to reach areas like pipes, equipment and beams.
Removing Combustible Dust
Combustible dust is an industrywide safety problem. This dust can lead to severe safety hazards like fires, explosions and even death for your workers. The best solution is dust management services from Air Quality Controllers with overhead vacuuming. Ensuring your facility undergoes overhead cleaning often will help prevent combustible dust from accumulating. Industrial vacuuming not only removes existing dust and debris, it slows the process of reoccurring buildup.
Dust from many products can be combustible and a potential hazard. Even seemingly harmless materials may create flammable dust. Just a few of the products capable of creating dangerous dust include coal, flour, grain, metals, spices, starch, sugar, tobacco, and wood.
Removing combustible dust from your workplace makes it safer. Our overhead highlight cleaning and vacuuming works wonders in conjunction with our duct cleaning services for manufacturers. One of the biggest mistakes companies make is only surface cleaning their facility, forgetting about dust and debris trapped in their air vents. Even after a professional cleaning, these contaminated ducts will reintroduce dirty air into your workplace.
Keep Your Employees Healthy with Air Quality Controllers
Cleaner workspaces mean healthier employees and less lost production time. Keeping your industrial production area clean with our overhead cleaning services, along with our commercial duct cleaning services, ensures the highest indoor air quality for your employees. Our overhead highlight cleaning and industrial services will leave you with a clean, more aesthetically pleasing production area. Our industrial cleaning covers lights, trusses, beams and everything from the ceiling to the top of your machines and all the way to your floor if need be.
Businesses and homes don't know when to clean their vents, air ducts and air. Learning when to clean your property is the first step to quality air and a cleaner environment.

Read More...