Commercial Air Duct Cleaners Serving Wisconsin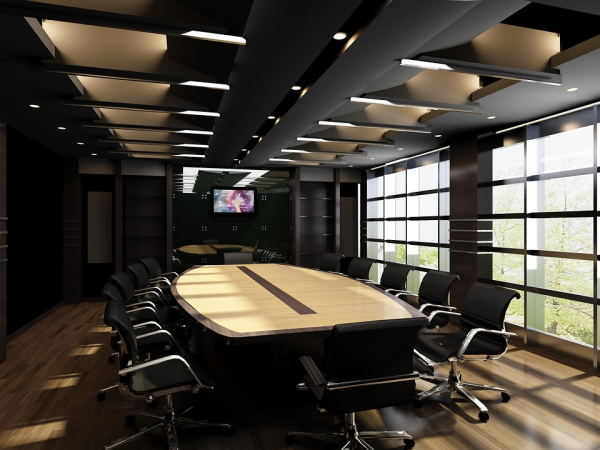 Keep Your Employees & Customers Healthy with Clean Air | Professional Duct Cleaners
Business owners take great pride in keeping their workspace clean and tidy. This cleanliness extends to the entire operation, where the custodial staff is responsible for ensuring the floors, windows, and other areas of the commercial property are spic-and-span, but who takes care of the air? In many cases, keeping work room surfaces from collecting dirt, grime, and dust is simple, but air ducts make it a challenge to prevent the production of air borne illnesses, mold spores, and other unsafe forms of pollution. The professional Milwaukee commercial air duct cleaners at Air Qaulity Controllers clean business' ducts to prevent the spread of dangerous microorganisms. By working to keep your air ducts free of dirt and dust, we are your best source for commercial air duct cleaning. We have a history of cleaning many different commercial buildings, such as: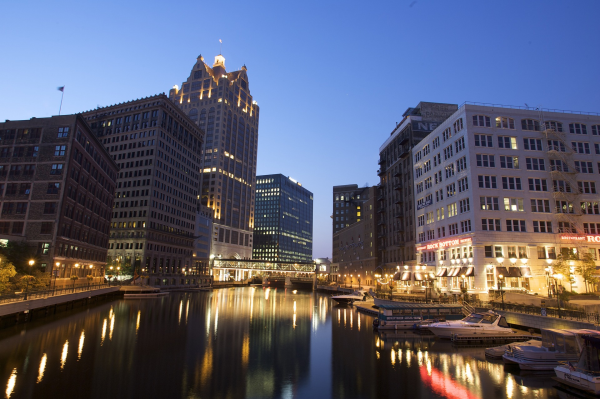 PRESERVE WORKPLACE AIR QUALITY
GET A FREE QUOTE
Your personal office is kept organized for the sake of your own health. As a commercial building owner, its important you also keep your workspaces clean to preserve the health of your employees and customers. Air Quality Controllers is the best air duct cleaning company in Milwaukee to choose when you want the most for you money. As a certified business, we uphold the highest standards in air duct cleaning and guarantee to keep the air in your work rooms clean.
4 Money Saving Benefits of Commercial Air Duct Cleaning
NADCA Certified Milwaukee Duct Cleaners Provide Businesses the Best Service
Air duct cleaning seems like a add-on leaving business owners asking: what's the value? Aside from the importance of employee and customer health, the benefits of commercial and residential duct cleaning in Milwaukee reach out to the life of your ventilation systems and equipment. The cost of commercial air duct cleaning is an investment in the health of your business. Professional duct cleaning extends the life and enhances the performance of air circulation systems, including:
Restoring Air Conditioners
Improving Exhaust Systems & Air Handling Units
Preventing Mold with Interior Duct Insulation Coatings
Boosting Energy Efficiency of All Systems

1. Restore Air Conditioner Performance with Commercial Duct Cleaners
Looking to improve air conditioning performance in the workplace? Commercial air conditioners are designed in a variety of sizes to provide the fastest, most efficient cooling for specific building dimensions. Over time, dust and debris builds up on your AC coils, limiting their ability to function and increasing energy usage by 35-40%. Dusty and dirty air conditioner coils result in higher costs for providing the same amount of cooling as clean coils. The potential savings in reduced energy costs are huge. Stop wasting money running a dirty air conditioner. Have Air Quality Controllers come to your business and clean your commercial air conditioners for better performance at a lower cost.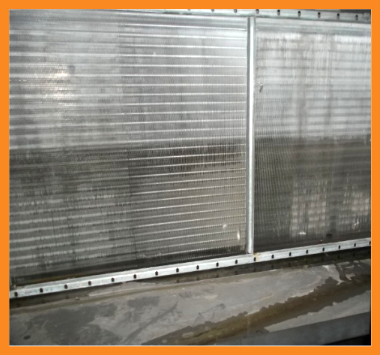 2. Improve Air Handler Unit Filtering with Commercial Exhaust Cleaning Service
Exhaust systems, like air handling units, are one of the prime tools used for filtering the air and keeping your building properly ventilated. As with most equipment, commercial exhaust ductwork is another victim of dust bulidup. As debris builds, fan and motor operation become less efficient, requiring them to run longer and causing frequent break downs. Air handlers suffer from a similar problem. Dust accumulates on the heating and cooling coil, clogging it and worsening performance. The bottom line is dirty, dusty commercial exhaust ducts and air handlers waste energy and cost more to operate. Air Quality Controllers is ready and waiting to clean out layers of built-up accumulation to return your commercial exhaust and air handler to optimal efficiency.
3. Prevent Mold Buildup with Commercial Interior Duct Insulation Coatings
As dust and debris builds up in commercial ducts throughout your business, moisture is trapped in the fibrous glass material used to insulate the duct system. Moisture breaks down the insulation and promotes mold and fungus growth. A fungicidal protective coating applied by Air Quality Controllers will act to prevent mold, bacteria and fungus growth while protecting the liner from further break down. Have one of our NADCA certified duct cleaners come to your building and inspect the ductwork for any liner damage - you'll know if its time for a proper air duct cleaning! Our professionals work to keep the quality of your air top notch so you can improve the health of your workers and reduce your bills.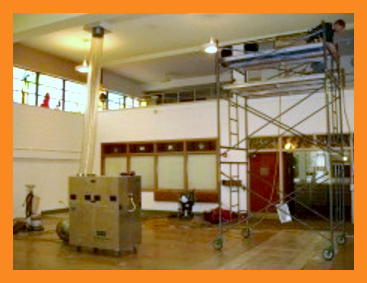 4. Be More Energy Efficient at Every Location with Our Duct Cleaners
In modern times, having an environmentally friendly business is important, as is a sustainable and efficient air duct system. The last thing you need is to be losing money from a dirty HVAC system. Our goal at Air Quality Control is to help southeastern Wisconsin businesses clean up their ducts – literally. Whether we're stop by one of your buildings or mulitple chain stores, our job not only helps you keep the air clean, but improve the efficiency of your energy use as well!
Too often, air ducts in commercial properties are poorly made or lack proper insulation resulting in higher cooling and heating bills. Wisconsin winters can get very cold, and bad air duct insulation will only drive heating prices up. In summer, it will take longer and cost more to keep the building cool when you have dirty air ducts. Having your air ducts professionally cleaned leads to a more efficient heating and cooling system, lowering your bill.
If mold or mildew has taken hold in your air ducts, your employees could fall sick. Allergens can also affect your workers. Clean air ducts, results in healthier air and less sick days, adding productivity to your business. We even add a protective coating to prevent fungal infestations, further keeping your business healthy and efficient.
The Department of Energy recommends all air duct work be done by certified technicians. Our superb ratings from the Better Business Bureau and Angie's List prove our industry knowledge, while our low costs means you start saving instantly. Air Quality Controllers is a popular choice for Milwaukee area business owners because of our NADCA certification. As a certified air duct cleaning company, customers count on us to provide the best pforessional duct cleaning services available. Choose Air Quality Controllers when you want to lower energy costs and provide cleaner air for you and your employees!
Commercial Duct Cleaning FAQs
Q: Do you perform overhead cleaning services?
A: Yes. Air Quality Controllers provides industrial cleaning services which include overhead vacuuming. Regular overhead vacuuming keeps employees healthy and safe by improving your facility's air quality and preventing combustible dust fires. Learn more about our industrial overhead vacuuming services now.
Q: How can I tell if my building needs the air ducts cleaned?
A: Excessive dust throughout your building is a big indicator of dirty air ducts. If your employees are constantly getting sick, this may be another indicator your commercial air ducts need cleaning. If you have been in your building for longer than 2 years and have never had them cleaned or have undergone recent construction, Air Quality Controllers highly recommends getting your air ducts professionally cleaned.
Q: How long does it take for commercial duct cleaning?
A: It depends on the size of your building and how in-depth your ducts need cleaning. Contact Air Quality Controllers for more information on duct cleaning services and for a free quote.
Q: Can Air Quality Controllers show proof of NADCA membership and certification?
A: Yes, NADCA provides certificates to each of its members. This certificate lists the commercial duct cleaning company's name and when their membership expires.
Q: Do I need to close my business operations for air duct cleaning?
A: Air Quality Controllers will work with you to customize an air duct cleaning schedule which is most suitable for you and your business.
Q: How do you clean industrial size air duct systems?
A: Air Quality Controllers utilizes industry-specific equipment. Depending on the size and type of air ducts your building has will determine the necessary equipment our duct cleaning technicians will use.
Q: How will we know if our commercial air ducts have been cleaned properly?
A: From beginning to end, our duct cleaning technicians will communicate with you every step of the process keeping you informed the entire way through. We will be happy to help you inspect the air ducts once we are completed to ensure we meet your highest expectations.
Q: How often should I have my building's air ducts cleaned?
A: You should inspect your building's ducts annually for cleanliness. If you're building undergoes heavier amounts of dust or other harmful particles, its best to clean them more often. Contact our commercial air duct specialists for a free quote on duct cleaning services for your building.
Q: Why clean our building's air ducts?
A: The EPA estimates lost productivity due to poor air quality at $60 billion annually. The American Lung Association, American Academy of Allergy & Immunology, EPA, and the American Medical Association all agree that poor indoor air quality is a serious health hazard. The growing number of lawsuits is an indication of this problem. The dust, debris and dirt is visible on the supply registers and return registers. Computers and other equipment can be damaged from dust gathering on electrical components.
Q: What causes indoor air contaminants in commercial buildings?
A: Some of the causes of indoor air contaminants include: Return inlets near doorways, loading docks and high dust producing industries Improperly maintained filters on HVAC systems let up to 93% of the contaminates recirculate Construction dust in an area of the building circulates into occupied spaces (i.e. remodeling, additions)
Contact the top Milwaukee commercial duct cleaners at Air Quality Controllers for cleaner, healthier air in your business.
The Best Commercial Air Duct Cleaning Services in Milwaukee, Wisconsin
Don't See Your Building Below?
| | |
| --- | --- |
| | Duct cleaning for restaurants is an important part of maintenance and should be done on a regular basis. Read why duct cleaning is beneficial for homes and industrial buildings, especially restaurants. Any environment handling and serving food daily should be cleaned from top to bottom and inside to out to prevent bacteria, dirt and even mold from accumulating. |
| | Hospitals are an extremely sensitive environment and must have the highest quality of indoor-air quality. Air duct cleaning helps eliminate bacteria, dirt and mold which can accumulate in hospital ducts. Learn more about the benefits of getting your hospital's air ducts cleaned. |
| | Manufacturing facilities can experience many hazards without reliably clean air. Air duct cleaning eliminates everything from mold and mildew to pollen and dust. Learn more about how duct cleanings will improve your manufacturing plant. |
| | From local malls to corner shops, clean air ducts will improve the health and happiness of customers and employees. Remove mold and dust from your retail location with the professionals of Air Quality Controllers. Learn more about how duct cleanings benefit your store. |
| | Cleaning your schools air ducts does more than improve overall air quality, It also creates a better environment for students and staff. Learn more about the benefits of air duct cleaning your school. |