Fill Out the Form Below to Get a Free Duct Cleaning Quote
Serving Milwaukee and Southeastern Wisconsin -- Get Your Ducts Cleaned Today!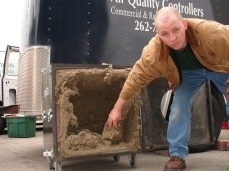 For air duct cleaning, call the experts at Air Quality Controllers LLC today! We have extensive cleaning knowledge on all air cleaning systems. We offer commercial and residential duct cleaning, dryer vent cleaning, industrial vacuuming, AC coil and exhaust cleaning. Our Milwaukee Duct Cleaning Company provides services in a prompt manner, if you are on a tight schedule we will accommodate your needs. The technicians we employ are friendly and well-mannered. Our technicians respect both you and your property with the utmost care and attention to detail while cleaning your duct work.
If our perfect rating with the Better Business Bureau and NADCA certifications do not sell you on Air Quality Controllers, our flat rate pricing and superior cleaning techniques are sure to seal the deal. You can be certain when our technicians leave your home or business, the only trace of our workers will be the impressive air quality. Whether you are a business owner who needs your coils cleaned for a more efficient air conditioning system or a home owner who needs their dryer vent cleaned, we will exceed your expectations and provide you with the best indoor air quality as a result. Contact the duct cleaners at Air Quality Controllers LLC for all of your air system cleaning needs, you will be amazed at the difference a simple duct cleaning can make.