Milwaukee Duct Cleaning Testimonials
Duct Cleaners Get Raving Reviews from Customers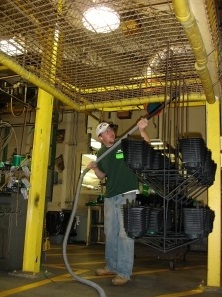 Choosing Air Quality Controllers LLC for your air duct, dryer vent and industrial cleaning needs means you will be beyond satisfied with the customer service provided by our technicians and the quality of work performed. Our family owned business is fully insured, receiving a perfect rating with the Better Business Bureau. We are National Air Duct Cleaners Association (NADCA) certified and employ certified ventilation inspectors and air system cleaning specialists on our staff. Our outstanding credentials mean you can rest assured knowing your air systems will be thoroughly cleaned to the highest standards, keeping your family and business safe from the hazards associated with dirty ducts and dryer vents. Each of our Milwaukee duct cleaning technicians pride themselves on providing the highest quality services and are frequently recommended by our customers for new jobs. We also have highly rated services on Angie's List, winning an Angie's List award for six consecutive years.

Request a Quote
From residential dryer vent cleaning to commercial AC coil and exhaust cleaning, and everything in between, our professionals utilize the best cleaning practices when performing their work. We provide our services at a flat rate, ensuring your quoted price will not change. Taking nothing short of the necessary time to thoroughly clean your air systems, our technicians will visit your home for several hours. They will work as efficiently and quickly as possible while respecting your home and privacy, completing your duct cleaning promptly. Our technicians will walk you through the entire process as we go and will give you helpful tips on the maintenance of your air systems. If you are looking for HVAC cleaning specialists with competitive prices and the highest quality services, look no further than Air Quality Controllers, LLC. View our customer testimonials below and find out for yourself, Air Quality Controllers delivers only the best services at prices you can afford.
Frequently Asked Questions
Contact our Milwaukee duct cleaning specialists to submit your own testimonial or for more information on our services.