Industrial Vacuum Services in Southeast Wisconsin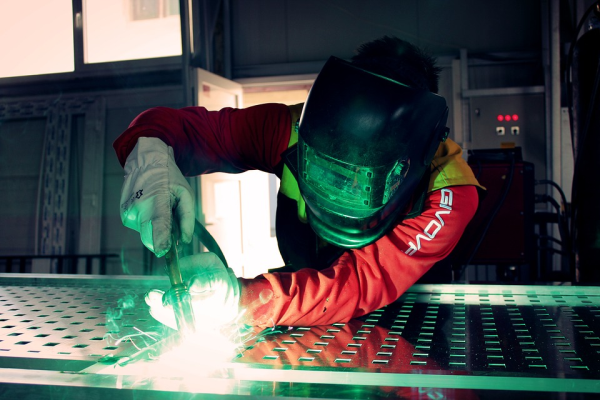 Milwaukee's Top Industrial Cleaners for Your Facility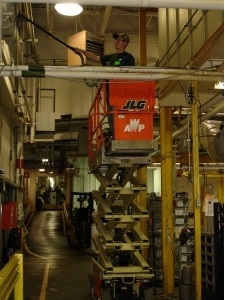 Air Quality Controllers performs industrial vacuuming services including overhead ceiling cleaning & high dusting in businesses throughout Southeast Wisconsin. Large, open areas with heavy traffic accumulate dirt, dust, and manufacturing byproducts which can lead to expensive safety violations, workplace injuries, or respiratory illnesses. Buildup can also damage your equipment by slowing down delicate machine parts and increasing production costs.
The industrial cleaning professionals of Air Quality Controllers clean everything from the top of the ceiling all the way down to the floor. We even handle difficult-to-reach areas, like machine tops, lights, trusses, and support beams to promote healthier work environments and increase production efficiency. Our NADCA technicians even work around your production schedule to minimize interruptions.

Request a Quote
Improve Indoor Air Quality with Industrial Vacuuming in Wisconsin
Our local Wisconsin contractors are highly trained in industrial vacuuming and cleaning. From cleaning the interior and exterior surfaces to cleaning equipment and storage areas, Air Quality Controllers will apply the appropriate technique to ensure your facility receives a thorough clean. This includes the removal of combustible dust for improved workplace safety. AQC's industrial cleaning contractors will make certain your space including your floors, walls, and ceilings are free from debris.
Benefits of Industrial Vacuuming Services
Removal of hard-to-reach debris
Improved indoor air quality
Increased efficiency of machines
Prevents costly safety violations
Making Workplaces Safer
From combustible dust fires to employee health threats, overhead vacuuming improves the air quality and safety in your work environment. The Occupational Safety and Health Administration (OSHA) has very clear regulations and guidelines in regard to industrial hygiene. So does the State of Wisconsin. Dust from manufacturing, chemicals, and other airborne debris all pose a risk to workers through daily exposure. With an industrial cleaning from Air Quality Controllers, you avoid a potential fine from OSHA while keeping your workers happy and healthy with clean, quality air.
Cleaning Hard-to-Reach Spaces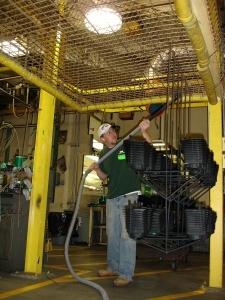 Ceilings, structural support beams, walls, pipes, ductwork and other overhead structures should be cleaned regularly by professionals. Just tell us where to go. We'll effectively and efficiently clean your building's overhead and work around your schedule to minimize disruption to production. You won't have to shut down while waiting days or weeks for your facility's cleaning to take place.
Industrial Vacuuming Cleaning Frequency
The frequency of industrial vacuuming will depend on your facility's needs and the surfaces involved. Different areas have different needs, and those needs change depending on industry activities. A company dealing with a lot of sawdust from wood manufacturing will have a much more frequent cleaning schedule than other manufacturers. Air Quality Controllers will help you determine how often your facility should be cleaned so you can stay on top of regular cleaning.
Air Quality Controllers Performs Industrial Vacuuming in Businesses Across Several Industries
Manufacturing facilities
Warehouses and distribution centers
Food processing plants
Automotive and aerospace facilities
Get a More Complete Clean With Duct Cleaning for Warehouses
Air Quality Controllers understands the unique requirements of warehouse environments and is equipped to provide exceptional warehouse duct cleaning services tailored to your specific needs. Our team of trained professionals utilizes advanced equipment and techniques to thoroughly clean your warehouse ducts, removing dust, debris, and contaminants. With a focus on quality, efficiency, and customer satisfaction, we strive to deliver the best duct cleaning service that ensures optimal air quality and a clean, safe working environment for your warehouse operations.
Industrial Vacuuming Services in Southeast Wisconsin
Air Quality Controllers is proud to provide industrial vacuuming services in the cities of Brookfield, Milwaukee, West Allis, Wauwatosa, Waukesha, Racine, New Berlin, Kenosha, Oak Creek, Oconomowoc, and more.

Request a Quote