Southeast Wisconsin Spring Cleaning Checklist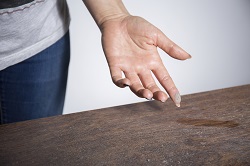 Improve your Quality of Life with Healthier Air
Cleaning is important for a number of reasons - most importantly for health. Spring time usually motivates homeowners to clean, especially after 5 months of having your windows and doors shut tight through a cold Wisconsin winter. Spring cleaning is crucial to your health, especially when you suffer from allergies, as your home creates the perfect breeding ground for dirt, mold, airborne bacteria, pet dander and many other harmful irritants during this time. When spring comes, pollen and other outdoor irritants only add to the mix.

Request a Quote
Without air duct cleaning, the polluted air continues to re-circulate throughout your home. Eventually bacteria will get trapped in carpets, vents, curtains, and other unlikely areas. Dust and dander will collect on surfaces throughout your home, undoing any other cleaning you've done. If you start to notice excessive dust and dirt throughout your home despite cleaning, you've waited too long to check your air ducts.
The most effective cleaning method is air duct cleaning, which should be performed every 3 to 5 years for pre-existing homes, or immediately after new construction. Having your air ducts cleaned, especially in spring, eliminates any debris and bacteria which sat in your home all winter long when you didn't have the luxury of keeping your windows open. Winter is also the prime time for flu and cold viruses to continuously circulate in the air, resulting in a cycle of continuous sickness for your family come spring if those germs aren't removed. Our air duct cleaning process includes thorough sanitization of your vents, effectively eliminating the spread of germs and airborne bacteria - resulting in a healthier home.
Spring Cleaning Checklist
| | |
| --- | --- |
| | Schedule your air duct cleaning today – Clean ducts will prevent the spread of dust during the rest of your cleaning. |
| | Dust thoroughly and extensively - Get those most often avoided areas like light fixtures and top shelves, even if no one can see it. |
| | Shake, wash or sweep your door mats - During the winter door mats collect salt, water and other various elements which then get tracked inside your home. Consider buying a new mat if your current one is beyond cleaning. |
| | Clean windows and window seals – Wash your windows to remove built-up grime. To thoroughly clean the window seals, use a vacuum hose attachment to collect all dust. |
| | Clean your carpets and upholstery. |
| | Wash your floors, walls, doors and cabinets – Make sure to wash inside and out with cabinets and doors. |
| | Clean appliances including your refrigerator's condenser coils – To clean the condenser coils, your fridge must be turned off. Keep the door to the refrigerator shut to keep the cold in so you don't waste any food. |
When spring is just around the corner, be sure to schedule your duct cleaning service today. Our NADCA (National Air Duct Cleaners Association) certified air duct cleaners will efficiently clean your air ducts while meeting the highest standards in quality. After cleaning, a thorough inspection will be performed to ensure every inch of your HVAC system ducts have been properly cleaned and sanitized.