Office air duct cleaning in greater Milwaukee

How often should you clean the air ducts at your office?
How many hours a day do you spend at the office? If you work fulltime, you're spending 40 hours a week at your Milwaukee area workplace. Shouldn't the air you breathe all day be clean and healthy? A professional air duct cleaning clears out dust and debris from your HVAC system. If your HVAC system has been performing poorly or you've noticed workers getting sick, contact Air Quality Controllers of southeast Wisconsin as soon as possible. Our air duct cleaning professionals perform commercial cleaning services and inspections.

Request a Quote
Annual, Monthly, and Weekly Scheduled Duct Cleaning
Determining how often to schedule an air duct cleaning or dryer vent cleaning for your office is hard since there's no one-size-fits-all answer. A small office with a few workers likely needs an annual cleaning and nothing more. Larger companies with shared structures or attached manufacturing facilities will need more frequent cleanings.
The time it takes to clean your ductwork depends on a number of variable factors, including the amount of human traffic and types of operations done at your business. We want to minimize any downtime caused by cleaning. Our professionals work with you to determine the most effective cleaning schedule for your facility.
Hire a Quality Air Duct Cleaning Company for your Milwaukee Property
Don't fall for HVAC scams offering unusually cheap services or claiming you need constant cleanings. These companies are out to get your money, not clean up your facility. The following tips can help you hire a reliable, air duct cleaning company in Southeast Wisconsin.
How to Identify a Real Air Duct Cleaning Company
Air duct cleaners who work less than an hour are probably not professionally licensed
Quality dust cleaners usually don't use truck-mounted or outside vacuum systems for collecting dust
Professionals are certified by the National Air Duct Cleaners Association (NADCA)
Why Indoor Air Quality Matters at the Office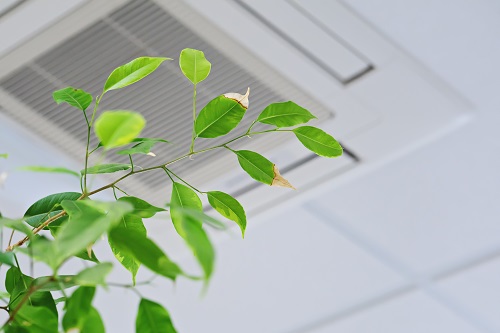 The more workers there are in your office, the more opportunities there are for germs to enter your environment. One sick worker sneezing can lead to germs spreading through the entire building's HVAC system. And there's also allergens to consider. Does someone wear strong perfume or cologne? Did someone place fresh flowers on their desk? Those are sources of potential air contaminants.
Regular air duct cleaning restores your office's indoor air quality. Air Quality Controllers has several methods for removing:
Asbestos
Formaldehyde
Radon
Carbon monoxide
Mold, mildew and fungus
Removing these contaminants lowers the risk of asthma attacks, allergies, and respiratory diseases for your workers.
Professional and Certified Air Duct Cleaners in Southeast Wisconsin
Air Quality Controllers is dedicated to providing efficient, reliable air duct cleaning and industrial vacuuming services across Southeast Wisconsin. Our professionals work with your schedule to minimize disruptions while improving your indoor air quality.
Contact our Milwaukee air duct cleaning specialists to schedule air duct cleaning & dryer vent cleaning for offices in greater Milwaukee today.